Adoption | Criminal & OVI | Domestic Relations | Estate Planning | Guardianship | Probate | Real Estate | Civil Protection Orders

Welcome to MacGillivray, Estes & Harvey, LLP
Attorneys at Law
The MacGillivray Law office began serving Logan County in 1965 when Douglas MacGillivray hung a shingle in downtown Bellefontaine, Ohio.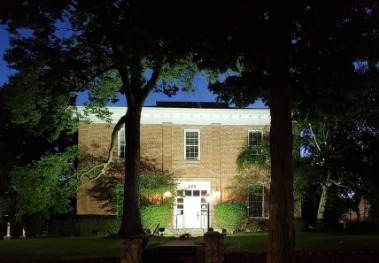 In the mid 1970's the firm purchased and renovated the historic William Lawrence mansion which is now listed on the National Register of Historic Landmarks. The building has often been referred to as the most beautiful law office in Ohio. Doug's daughter, Linda, joined the firm in 1989. After her father died, Jacob A. Estes joined Linda to carry on the tradition of excellent small town legal representation. Gregory L. Harvey joined the team in 2018.
Between Linda, Jacob, and Greg there is over 40 years of experience. All three partners started their careers in criminal justice; Linda and Greg as Assistant Prosecutors and Jacob as a Parole Officer. They use their expertise now to serve their clients. Linda dedicates her time to Probate and Estate Planning while Jacob uses his insight in the areas of Criminal Defense and Domestic Relations. Greg concentrates his areas of practice in Criminal Defense. He has over ten years of experience working in a county public defender office, private criminal defense firms, the corporate healthcare industry, and most recently as an assistant prosecuting attorney.
The firm carries on the long established tradition of personal legal service in Logan and all surrounding counties. The MacGillivray building also houses two Accounting Firms and one Financial Advisor for the convenience of clientele.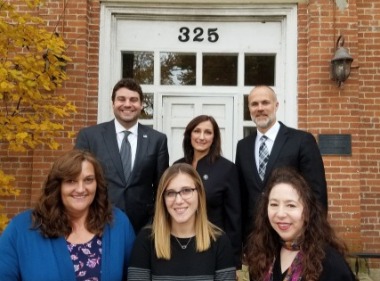 Thank you so much for helping me complete the guardianship process for my family member. It was a little overwhelming but I appreciated your hard work and wisdom. You are a godly man making a difference daily in what you do.
Guardianship - Probate
I am beyond satisfied with the performance, support, professionalism, and knowledge of Mr. Estes. Throughout our cases, he was always very quick to respond and made himself available during times that most would consider after hours. Mr. Estes was always patient and very thorough in explaining the status and details of my case.
Minor Guardianships - Probate
I enjoy working with Linda presently and in the past on many different legal situations. She and her dedicated staff has worked in the area of Estate Planning, Probate, business law and Revocable Trusts, as well as LLC entities for us and the companies. I see a good future relationship for legal guidance from Linda and her office.
Probate
Jacob is very methodical and efficient when doing his investigation and questioning. He is always looking out for your best interest. Very good at what he does.
Civil Protection Order
I hired Ms. MacGillivray to handle the probate of my mother's estate. With a short consultation, she was able to offer the options to handle my specific situation in an expeditious and cost effective way. For a situation that could have taken months, she was able to finalize within weeks. I would highly recommend her to anyone!
Probate
Absolutely the best! A man of integrity, very knowledgeable and an excellent communicator. Jacob handled a contract dispute that looked hopeless by leading all parties and an opposing lawyer to do the right thing; avoided expensive litigation. We will have Jacob prepare our wills next, this Fall. If you need a lawyer I give Jacob my highest endorsement!
Probate

Linda C. MacGillivray
Title: Managing Partner
Phone: (937) 593-8725
Fax: (888) 233-6435
Providing Legal Services to these communities
Ada, Ohio
Alger, Ohio
Anna, Ohio
Belle Center, Ohio
Bellefontaine, Ohio
Botkins, Ohio
Buckland, Ohio
Catawba, Ohio
Christiansburg, Ohio
Clifton, Ohio
Cridersville, Ohio
De Graff, Ohio
Donnelsville, Ohio
Dublin, Ohio
Dunkirk, Ohio
East Liberty, Ohio

Enon, Ohio
Forest, Ohio
Fort Loramie, Ohio
Huntsville, Ohio
Jackson Center, Ohio
Kenton, Ohio
Kettlersville, Ohio
Lakeview, Ohio
Lockington, Ohio
Magnetic Springs, Ohio
Marysville, Ohio
McGuffey, Ohio
Mechanicsburg, Ohio
Milford Center, Ohio
Minster, Ohio
Mount Victory, Ohio
Mutual, Ohio
New Bremen, Ohio
New Carlisle, Ohio
New Knoxville, Ohio
North Hampton, Ohio
North Lewisburg, Ohio
Patterson, Ohio
Plain City, Ohio
Port Jefferson, Ohio
Quincy, Ohio
Raymond, Ohio

Richwood, Ohio
Ridgeway, Ohio
Rushsylvania, Ohio
Russells Point, Ohio
Russia, Ohio

Saint Marys, Ohio
Sidney, Ohio
South Charleston, Ohio
South Vienna, Ohio
Springfield, Ohio
St. Paris, Ohio
Tremont City, Ohio
Unionville Center, Ohio
Urbana, Ohio
Valley Hi, Ohio
Wapakoneta, Ohio
Waynesfield, Ohio
West Liberty, Ohio
West Mansfield, Ohio
Woodstock, Ohio
Zanesfield, Ohio
The information on this site is not, nor is not intended to be, legal advice. You should consult an attorney for individual advice regarding your own situation. ADVERTISEMENT ONLY