Legal Services
MacGillivray & Estes, LLP
Attorneys at Law
Linda C. MacGillivray
Jacob A. Estes
Veronica D. Armstrong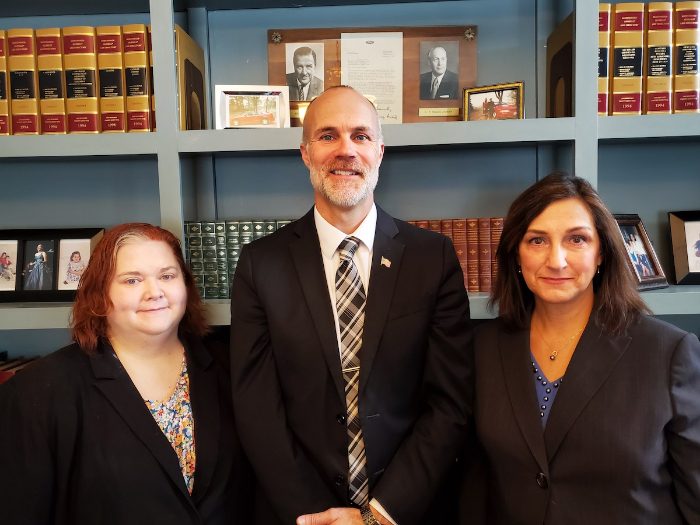 ADOPTION
We enjoy helping families with adoptions at our law firm. Linda MacGillivray has 28 years of experience in this field. She has successfully assisted families with their adoptions in Logan and surrounding counties. Our firm handles public agency, stepparent, legal custodian, foreign and private adoptions. Our office can also handle the name change process for our clients.
ESTATE PLANNING
It is critical to have a will in place. Unfortunately, we are all mortal and it is so much easier on our loved ones if we have completed some preplanning. Not only does our firm handle wills, trusts, living wills, health care power of attorneys, and durable power of attorneys, we can also prepare joint and survivorship deeds and transfer on death affidavits for our clients.
REAL ESTATE
If you are buying or selling real estate, Attorney Linda MacGillivray can help you with the legal aspects. It is always wise to have a title search performed prior to purchasing real estate. We know the various types of deeds and can draft one that best suits the situation. We also provide Land Installment Contracts and assist clients with Landlord/Tenant law.
CRIMINAL
Attorneys Jacob Estes has represented numerous clients who were facing criminal or juvenile delinquency charges. Jacob had years of experience in the courtroom prior to working at the firm. Appearing in court for a criminal or juvenile delinquency charge can be very stressful and the impact of a conviction has lasting effects. The criminal court system is largely unfamiliar to most people and can be very intimidating. Individuals who have been charged with a misdemeanor, felony or traffic offense can rely on our firm to successfully navigate the complexities of their case. The attorneys handle cases from Operating a vehicle under the influence of alcohol or drugs (OVI) and other traffic offenses to drug, sex and property offenses. Whether your case is a traffic, misdemeanor, felony, or a juvenile case, our firm is prepared to assist you. For individuals currently incarcerated in state prison, our attorneys can help you determine your eligibility for Judicial Release. We are also able to assist clients with determining their eligibility to have their adult or juvenile record sealed.
CIVIL PROTECTION ORDERS
There are several types of civil protection orders available by law in Ohio. The most common orders are the Domestic Violence Civil Protection Order and the Civil Stalking Protection Order. A Petitioner is the person seeking the protection order and the Respondent is the alleged abuser. Our office has successfully represented individuals seeking a protection order and individuals defending against a protection order. A protection order offers numerous safeguards for individuals seeking to stop future abuse. As such, the consequences of a protection order for the Respondent are significant. Our firm can help you with the process of applying for a protection order and defending against one.
GUARDIANSHIPS AND GUARDIAN AD LITEM
The Supreme Court of Ohio requires special training for Attorneys to be able to serve as Guardians or Guardian ad Litem. All of our attorneys have completed the required training for serving as Guardians and Guardian ad Litem. Our office assists clients with acquiring Court appointment as Guardian for a Minor's settlement, a disabled adult child or a parent with Alzheimer. Our attorneys also represent children in Domestic Relations and Children Service's cases.
PROBATE ESTATES
We can settle your loved one's estate efficiently after they pass. Combined, our attorneys have over 32 years of experience handling estate cases. We know what the Courts require and how to prepare all the necessary documents. It is never easy during a time of mourning but our office can walk with you throughout the probate process.
DOMESTIC RELATIONS
Attorney Jacob Estes and Veronica Armstrong assists clients with the Dissolution and Divorce process. Additionally, they represent clients in post-decree actions for Contempt of Court and changing the legal custody of their children. They also assists unmarried clients who seek to establish custody of their children. Making decisions regarding your family can be emotional and difficult. Our attorneys will help guide you through the Court system to assist you in reaching your goals.
Providing Legal Services to these communities
Ada, Ohio
Alger, Ohio
Anna, Ohio
Belle Center, Ohio
Bellefontaine, Ohio
Botkins, Ohio
Buckland, Ohio
Catawba, Ohio
Christiansburg, Ohio
Clifton, Ohio
Cridersville, Ohio
De Graff, Ohio
Donnelsville, Ohio
Dublin, Ohio
Dunkirk, Ohio
East Liberty, Ohio
Enon, Ohio
Forest, Ohio
Fort Loramie, Ohio
Huntsville, Ohio
Jackson Center, Ohio
Kenton, Ohio
Kettlersville, Ohio
Lakeview, Ohio
Lockington, Ohio
Magnetic Springs, Ohio
Marysville, Ohio
McGuffey, Ohio
Mechanicsburg, Ohio
Milford Center, Ohio
Minster, Ohio
Mount Victory, Ohio
Mutual, Ohio
New Bremen, Ohio
New Carlisle, Ohio
New Knoxville, Ohio
North Hampton, Ohio
North Lewisburg, Ohio
Patterson, Ohio
Plain City, Ohio
Port Jefferson, Ohio
Quincy, Ohio
Raymond, Ohio

Richwood, Ohio
Ridgeway, Ohio

Rushsylvania, Ohio
Russells Point, Ohio
Russia, Ohio
Saint Marys, Ohio
Sidney, Ohio
South Charleston, Ohio
South Vienna, Ohio
Springfield, Ohio
St. Paris, Ohio
Tremont City, Ohio
Unionville Center, Ohio
Urbana, Ohio
Valley Hi, Ohio
Wapakoneta, Ohio
Waynesfield, Ohio
West Liberty, Ohio
West Mansfield, Ohio
Woodstock, Ohio
Zanesfield, Ohio
The information on this site is not, nor is not intended to be, legal advice. You should consult an attorney for individual advice regarding your own situation. ADVERTISEMENT ONLY